Posted by Lana On 4/14/2010 09:28:00 AM      www.greattennisphotos.net
Serena Williams, who hasn't played since Australian Open, has asked for and received a wild-card entry for next month's Italian Open, which begins May 3 and is a key clay-court warmup for the French Open.
"Serena Williams will be at the Italian Open from the second to the eighth of May," a statement on the tournament's website stated. "The world number one requested and obtained a wild card."
Nine of the world's top ten women will compete in Rome, with the exception of Sony Ericsson Open winner Kim Clijsters.
***************************************************************************************************************************************
MORE SERENA NEWS…
Serena closing in on significant mark
By Greg Garber
ESPN.com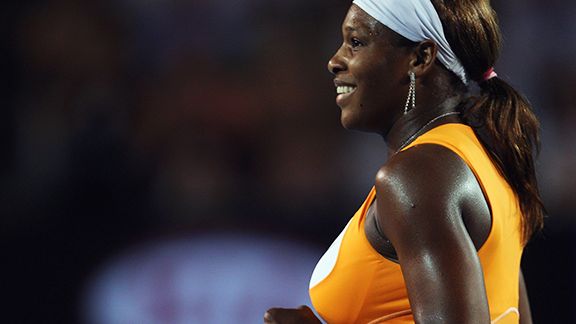 Mark Kolbe/Getty ImagesSerena Williams might have taken a tennis respite, but she's still the No. 1-ranked player.
Her cranky left knee prevented her from playing recent tournaments in Miami and Charleston, but Serena Williams continues to close in on a milestone.
Next week, she will surpass Lindsay Davenport's career weeks as the No. 1-ranked player (98) and is projected to become the seventh player in Sony Ericsson WTA history to reach the century mark. She'll join Steffi Graf (377), Martina Navratilova (332), Chris Evert (260), Martina Hingis (209), Monica Seles (178) and Justine Henin (117).
One And Not Done
Longest spans between first and last No. 1 ranking
| Player | Dates | Span |
| --- | --- | --- |
| 1. Chris Evert | Nov. 1975-Nov. 1985 | 10 years |
| 2. Steffi Graf | Aug. 1987-March 1997 | 9 years, 7 months |
| 3. Martina Navratilova | July 1978-Aug. 1987 | 9 years, 1 month |
| 4. Jimmy Connors | July 1974-June 1983 | 8 years, 11 months |
| 5. Andre Agassi | April 1995-Sept 2003 | 8 years, 5 months |
| 6. Serena Williams | July 2002-April 2010 | 7 years, 9 months |
Serena first reached No. 1 in July 2002, when she wrested it from her sister Venus in the midst of four consecutive major victories. Then, after reigning for 57 weeks, Serena was supplanted at the top by Kim Clijsters.
It was more than five years before she returned at No. 1, in the wake of her 2008 U.S. Open victory. The 265-week gap between holding the No. 1 ranking is the longest in tennis history. Andre Agassi went 177 weeks, between February 1996 and July 1999, while Evert (156 weeks) and Davenport (144 weeks) also experienced prolonged sabbaticals.
Evert fashioned another piece of history, too. An entire decade passed between her first appearance at No. 1 and her last one, in November 1985. Scroll down that list of usual suspects and you will find Serena sixth on that all-time list — and, at 28, she can still move up.
Serena was granted a wild-card entry for next month's Italian Open, which begins on May 3.
Roger Federer, meanwhile, is coming into record range himself. Again.
Since taking the No. 1 ranking from Andy Roddick in February 2004, Federer has been the ATP World Tour's No. 1 player — with the exception of the 46-week stretch when Rafael Nadal passed him. Federer has enjoyed 278 career weeks at No. 1 and this year has already moved past Ivan Lendl (270) and Connors (268).
Only one player remains ahead of Federer. In nine weeks he could break Pete Sampras' record of 286.
<!-comments-button-->